Ear Wax Removal in Gravesend, Dartford, and Kent
A build-up of earwax can cause pain, discomfort, and even hearing loss.
Ear wax works hard to keep your ears in good condition. It acts as a self-cleaning agent, lubricates your ears, and prevents dirt and debris from causing damage. You normally don't have to remove ear wax yourself because it eventually works its way through your ears and falls out on its own.
Sometimes, though, ear wax can build up inside your ears and cause several uncomfortable symptoms. These symptoms include:
Ear pain
Hearing loss
Itching
Dizziness
An odour
Discharge
A feeling of fullness in your ears
Having trouble hearing?
If you're suddenly struggling to hear things or having discomfort in your ears, book an appointment to get peace of mind and relief.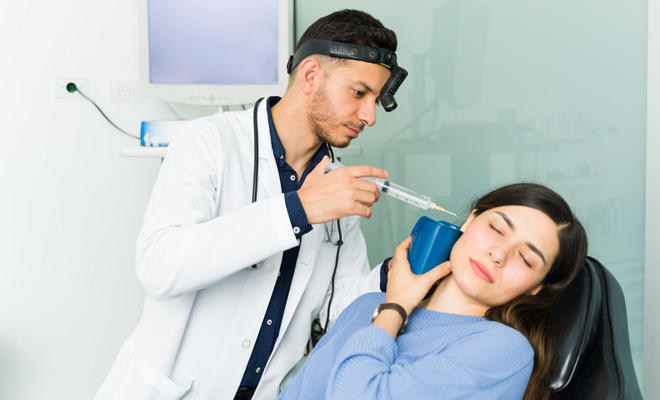 Why You Should Choose Microsuction
When it comes to removing excess ear wax, you should always trust a professional. Otherwise, you risk damaging your ears or pushing the wax in further. At Intrigue Health, you can get your ears back in shape in no time with ear wax microsuction.
Microsuction is the safest and most effective method of ear wax removal. A small device is expertly inserted into your ears to gently suck out any wax build-up. It's a low-pressure instrument that safely and quickly removes the ear wax without touching the more sensitive parts of your ears.
For extra precision, we use surgical lenses (loupes) that give binocular magnification to the clinician carrying out the procedure. This ensures that the tip of the fine cannula (the suction tube) is always under direct supervision.
Ear Wax Removal Services from Intrigue Health
Our private ear wax removal services are carried out by specially trained pharmacists. If you're ready to improve your ear health, contact us today or book an appointment online for ear microsuction serving areas Bexley, Medway, and Longfield.
The charges for Ear wax Removal service are as follows:
Consultation fee (no wax): £20
Ear Microsuction for one ear: £50
Ear Microsuction for both ears: £80
Intrigue Health offers a range of Private Health Services